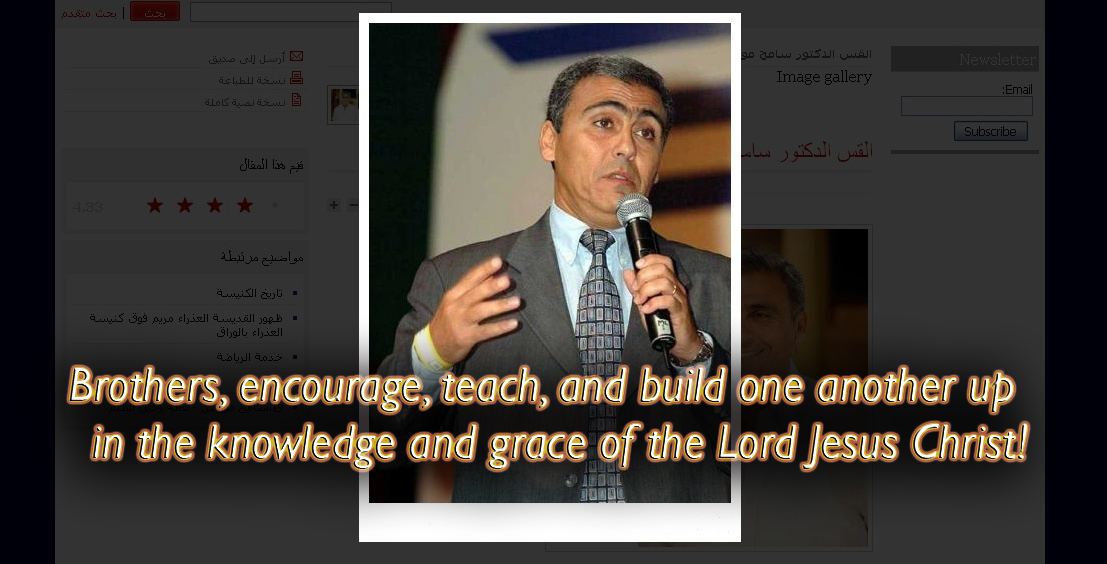 Brothers,
Let me address today to Egyptians and of course to all Muslims. Let me invite you to visit a great Christian Arab church in Egypt, Cairo. Evangelical meetings of believers in God, who are mainly Arabs and ex-Muslims (over 500 people), are held in a church called Kasr El-Dobara (Cairo, Egypt). It is the largest Christian Arab church in the Middle East, and seats 1,500, but accommodates an additional 1,500 in overflow seating through closed-circuit TV. Brothers, I have never seen better Christian community than in this place! If you will hear worship sermons which are held on Sunday at 7:00 pm every week than your heart will cry because God will talk to you personally through people chosen and saved by God. All Muslims are welcomed. I invited many friends who are devoted Muslims to this church and they cried because the words of God touched their hearts. I invited Muslims sheikh and people who lived in Saudi Arabia for a long time and made many times hajj. But all these people need to KNOW the TRUTH about God Jesus because salvation from their sins and approaching anger of God is only possible through their FAITH in God Jesus. Here is the web site of this church: www://www.kdec.net.
Visit this web site and listen to sermons daily online. Be involved in studyng of the Bible online even if you are living in Muslim countries. You ALL can be FREE if you will allow God Jesus to SET you FREE of your sins and transgressions. Believe in God Jesus and BE LEADERS …spiritual leaders in your families and countries. Be the sons of God chosen by Him to BRING Him GLORY and fruits of righteousness! Many of you became Christians because you heard the words of God Jesus but now it is a time for you to LIVE aHOLY life and God Jesus will bless you and save your families! Let's be FREE and PROCLAIM the FREEDOM in God Jesus all over the world!
But what is the Church? Let's consider it today.
The term "Church" is used by Christians in two different, but closely related, ways. It can refer to all of Jesus' followers, viewed as a community/Ummah. It can also refer to specific institutions, either the local congregation or a national or international body. It can even be used to refer to the building in which they meet. But what is CHURCH and what does God say about His Church? Let's consider it today.
Many people today understand the church as a building. This is not a biblical understanding of the church! The word "church" comes from the Greek word ekklesia which is defined as "an assembly" or "called-out ones." The root meaning of "church" is not that of a building, but of people. So, Church is a body of believers….or in other words it is Ummah which consists of believers in God Jesus who are created and saved by God Jesus!
The Church is the body of Christ, of which He is the head. Ephesians 1:22-23 says, "And God placed all things under his feet and appointed him to be head over everything for the church, which is his body, the fullness of him who fills everything in every way." The body of Christ is made up of all believers in Jesus Christ. The body of Christ is comprised of two aspects:
1) The universal church consists of all those who have a personal relationship with Jesus Christ/believers in God Jesus. "For we were all baptized by one Spirit into one body—whether Jews or Greeks, slave or free—and we were all given the one Spirit to drink" (1 Corinthians 12:13). This verse says that anyone who believes is part of the body of Christ and has received the Spirit of Christ as evidence. The universal church of God is all those who have received salvation through faith in Jesus Christ.
2) The local church is described in Galatians 1:1-2: "Paul, an apostle … and all the brothers with me, to the churches in Galatia." Here we see that in the province of Galatia there were many churches—what we call local churches. An evangelical, a Baptist church, Lutheran church, Protestant church, etc., is not the church, as in the universal church—but rather is a local church, a local body of believers. The universal church is comprised of those who belong to Christ and who have trusted Him for salvation. These members of the universal church should seek fellowship and edification in a local church.
In summary: the Church isnot a building or a denomination! According to the Bible, the Church is the fellowship of believers in God Jesus or the body of Christ—all those who have placed their faith in Jesus Christ for salvation (John 3:16; 1 Corinthians 12:13). Local churches are gatherings of members of the universal church. The local church is where the members of the universal church can fully apply the "body" principles of 1 Corinthians chapter 12: encouraging, teaching, and building one another up in the knowledge and grace of the Lord Jesus Christ.
The Church is important, because God does not save people in isolation. An important part of what needs to be restored is our relationship with other people. That can only be done by the community as a whole.
God most often reaches us through other people. The Church is also the group with which we worship God. We all should be maintaining our fellowship with God and each other!
The Church also has a responsibility to encourage its members to make spiritual progress, and to show their faith by their behavior, both through their ethics and their good works. This responsibility includes administering brotherly correction when someone errs.
Jesus referred to the Christian community with several metaphors: in one he said that He was the vine, and all of His followers are the branches. In another, He referred to the Church as His body. All of these images emphasized that His followers are spiritually united with Him and with each other.
When we are using the term "Church" usually we refer to the universal Church…or to the global fellowship of believers in God Jesus who are saved by God and who are 'born again Christians'.. Brothers, lets listen today the words of God said through our brothers Arabs online on the web site of the Kasr Al Dobara church. Click here to listen to a sermon: www://www.kdec.net/
Let' s read again words of God about His Son Jesus said through the prophet Isaiah that Jesus should die and accept our sins to His holy body to make us FREE of them. This prophecy was said by God many centuries BEFORE the birth of God Jesus on earth: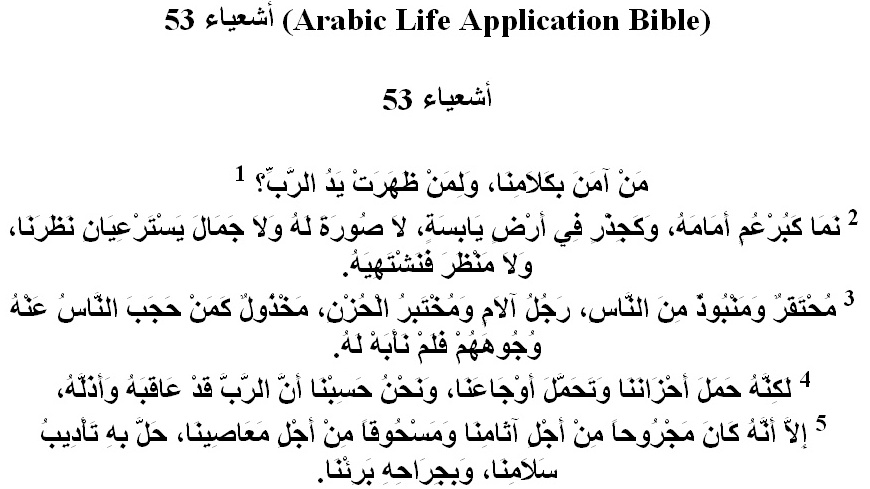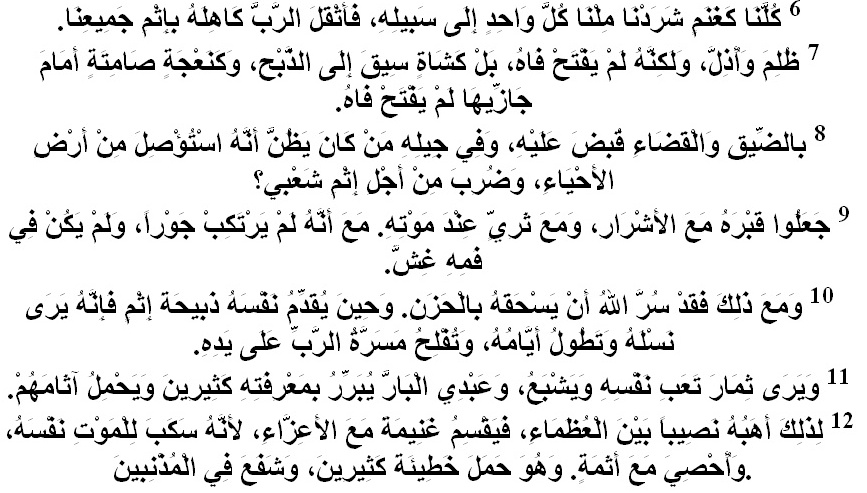 Isaiah 53 (New King James Version)
1 Who has believed our report?
And to whom has the arm of the LORD been revealed?
2 For He shall grow up before Him as a tender plant,
And as a root out of dry ground.
He has no form or comeliness;
And when we see Him,
There is no beauty that we should desire Him.
3 He is despised and rejected by men,
A Man of sorrows and acquainted with grief.
And we hid, as it were, our faces from Him;
He was despised, and we did not esteem Him.
4 Surely He has borne our griefs
And carried our sorrows;
Yet we esteemed Him stricken,
Smitten by God, and afflicted.
5 But He was wounded for our transgressions,
He was bruised for our iniquities;
The chastisement for our peace was upon Him,
And by His stripes we are healed.
6 All we like sheep have gone astray;
We have turned, every one, to his own way;
And the LORD has laid on Him the iniquity of us all.
7 He was oppressed and He was afflicted,
Yet He opened not His mouth;
He was led as a lamb to the slaughter,
And as a sheep before its shearers is silent,
So He opened not His mouth.
8 He was taken from prison and from judgment,
And who will declare His generation?
For He was cut off from the land of the living;
For the transgressions of My people He was stricken.
9 And they made His grave with the wicked—
But with the rich at His death,
Because He had done no violence,
Nor was any deceit in His mouth.
10 Yet it pleased the LORD to bruise Him;
He has put Him to grief.
When You make His soul an offering for sin,
He shall see His seed, He shall prolong His days,
And the pleasure of the LORD shall prosper in His hand.
11 He shall see the labor of His soul, and be satisfied.
By His knowledge My righteous Servant shall justify many,
For He shall bear their iniquities.
12 Therefore I will divide Him a portion with the great,
And He shall divide the spoil with the strong,
Because He poured out His soul unto death,
And He was numbered with the transgressors,
And He bore the sin of many,
And made intercession for the transgressors.
Arabs and Muslims,
be SAVED by God RIGHT NOW!
Brothers, Islam and the Bible call Jesus as Kalimat-Ullah- WORD of Allah!
Will you reject God by rejecting His SON?
Look if you will reject Son, it means you dont believe in His Father Allah. It means you are AGAINST Allah.
Islam came later after prophecies of Allah already existed that His Son Jesus will save the world from sins. So, what is Islam? ONE of religions. Look brother, there are millions religions and all they worship millions of gods which are called by God of Ibrahim as IDOLS.
Way for people worshiping idols is hell. Islam is among them. Why? Because Islam makes God of our father Ibrahim a LIAR by claiming that there is NO Son of God. Islam is closing eyes of Muslims to the words of Allah. Which man on the earth is able to BEAR INIQUITIES of the world? Sins of people? How SERVANT canJUSTIFY many people? It is impossible for a man. But only for God! We worship perfect God. He DIED instead on us. His name is the most perfect – Jesus….Isa Ibn Allah…Isa Allah…Issa Al Massih. And He is God of our father Ibrahim. Turn from sins to HIM and LIVE eternally as son of God!
Be saved right NOW
How to LIVE with God Jesus?
2 Corinthians 7:1 Having therefore these promises, dearly beloved, let us cleanse ourselves from all filthiness of the flesh and spirit, PERFECTING HOLINESS IN THE FEAR OF GOD.
Hebrews 12:28 Wherefore we receiving a kingdom which cannot be moved, let us have grace, whereby we may SERVE GOD ACCEPTABLY WITH REVERENCE AND GODLY FEAR
Fellowship with God
means YOU Arabs and Muslims
can be called sons of God.
You can be forgiven of ALL your sins!
You can be
adopted by God
THROUGH your Faith
in His Son Jesus.
Can you call Jesus the Son of God? Is He God in your life? Have you given Him absolute control of your life and future?If not, do is right NOW!
Pray now to the LORD and accept His forgiveness of all your sins through FAITH in His Son – God Jesus Christ!
Pray God right now And be saved!
God is bringing Judgement. Return of the Lord Jesus and His Judgement day should make difference in our behavior. Live your best in purity. Be excited about meeting with the Lord. You should anxiously await with joiful anticipation of the Lord's return. If your hearts is filled with anticipation, excitement and joy, it indicates that you are walking with the Lord. If you are NOT sure and confident that if you would die today you would go to Heaven, it means you need to get right with God. If you never said- YES- to Jesus, do it today! If you have fallen away from the Lord, come back to Him today.
We will close with prayers: Father, we believe that Jesus is coming again. We believe we need to be ready. And Lord I am praying about any person who is reading my message and if they dont have confidence that they are ready for Your return, help them to come to You today and get right with You now. Amen.
First, recognise brother, that you are sinner. Be sorry for your sin. And ask God to forgive you right now. The way as we do that TROUGH PRAYER. That's how we communicate with God.I'd like to lead you in prayer. If you want Christ to forgive your sins. If you want to know that when you will die you will go to Heaven then pray this prayer with me right now:
God, I know I am a sinner. And I am sorry for what I have done. And I turn from my sin now and ask You to forgive me. Thank You that Your Son Jesus Christ died on the cross and shed His blood for me. Be my Savior and my Lord. And be my friend. I want to follow You from this day forward. Fill me with Your Spirit. And help me to be Your disciple. Thank You for accepting me. Thank You for forgiving me. Thank You that I am now YOURS. In Jesus' name I pray. Amen.
If you sincerely asked God to forgive you then WELCOME to the family of God. Now you are adopted by God. Now you bacame His son and His inheritance. His angels have written your name in the Book of Life. And you have the BRIGHT FUTURE.
God Jesus said:
"I tell you the truth, whoever hears my word
and believes him
who sent mehas eternal life and will not be condemned;
he has crossed over from death to life.John 5:24
Walk with God and live eternally Arab nation! Amen.
Rev. 4:8 "Holy, holy, holy is the Lord God Almighty, who was, and is, and is to come."
Brothers, God Jesus is COMING BACK to us to the earth. Be prepared to LIVE with Him and not to die without Him! Repent and make your ways straight. To make your ways straight, then, please the Lord in all you do by BELIEVING in His Son Jesus Christ.
Turn away from a life of sin to a life of righteousness (Rom. 12:21).
This is the way of peace (Luke 1:79).
It is also the way to prosperity, blessings, answered prayer, joy and every good thing (Prov. 13:21; 1 John 3:22; Heb. 13:21).
If you prayed this simple prayer aboveor if you need more information orstill have questions about who Jesus is or if you want to believe in God Jesus then please email me and contact me (contacts are below) because we should be together. God called us as believers in Him or CHURCH.
Bahira