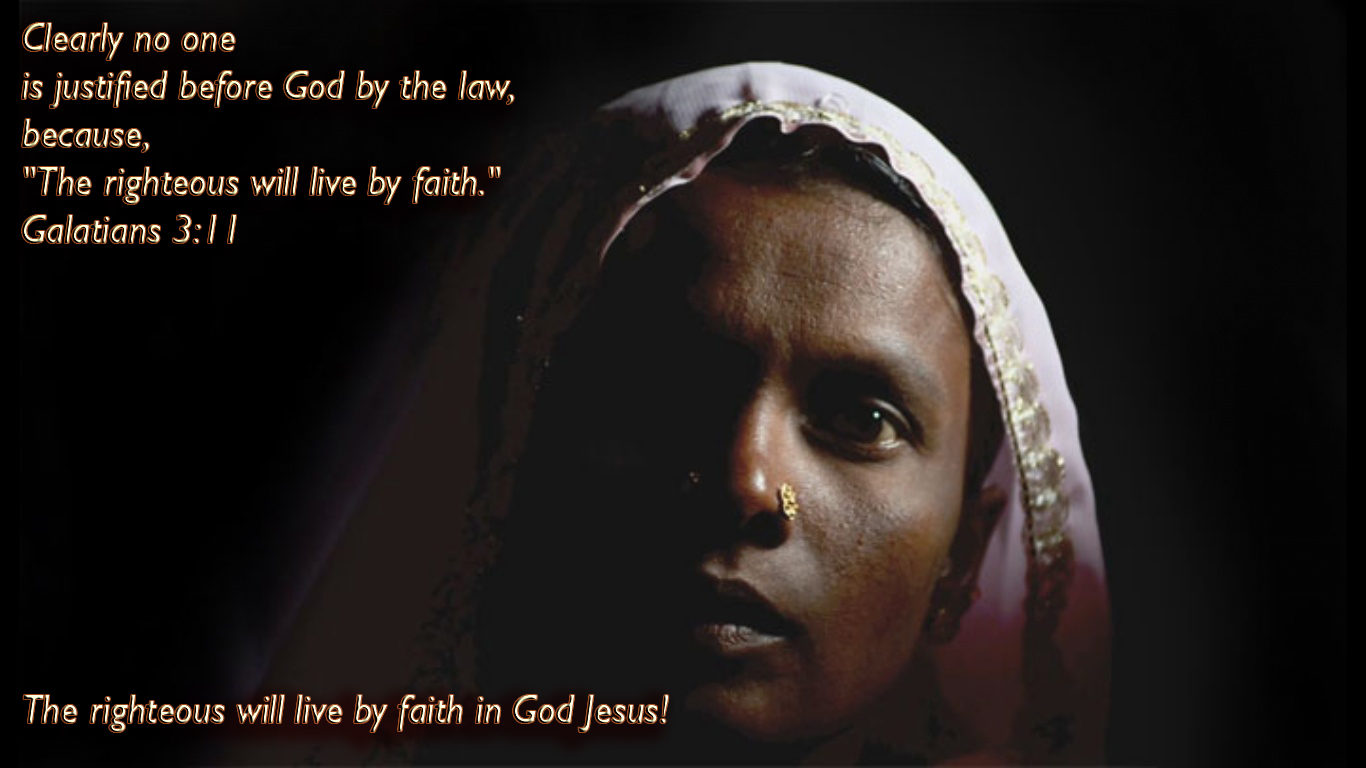 Romans 3:19-21
(19) Now we know that whatever the law says, it says to those who are under the law, that every mouth may be stopped, and all the world may become guilty before God. (20) Therefore by the deeds of the law no flesh will be justified in His sight, for by the law is the knowledge of sin. (21) But now the righteousness of God apart from the law is revealed, being witnessed by the Law and the Prophets…
New King James Version
19
وَنَحْنُ نَعْلَمُ أَنَّ كُلَّ مَا تَقُولُهُ الشَّرِيعَةُ إِنَّمَا تُخَاطِبُ بِهِ الَّذِينَ هُمْ تَحْتَ الشَّرِيعَةِ، لِكَيْ يُسَدَّ كُلُّ فَمٍ وَيَقَعَ الْعَالَمُ كُلُّهُ تَحْتَ دَيْنُونَةٍ مِنَ اللهِ.
20
فَإِنَّ أَحَداً مِنَ الْبَشَرِ لاَ يَتَبَرَّرُ أَمَامَهُ بِالأَعْمَالِ الْمَطْلُوبَةِ فِي الشَّرِيعَةِ. إِذْ إِنَّ الشَّرِيعَةَ هِيَ لإِظْهَارِ الْخَطِيئَةِ.
21
أَمَّا الآنَ، فَقَدْ أُعْلِنَ الْبِرُّ الَّذِي يَمْنَحُهُ اللهُ ، مُسْتَقِلاً عَنِ الشَّرِيعَةِ، وَمَشْهُوداً لَهُ مِنَ الشَّرِيعَةِ وَالأَنْبِيَاءِ،
ﺭﻭﻣﻴﺔ 3
Brothers,
We all are sinners. We all have been broken God's commandments. We all are guilty and if God will not forgive our sins we will perish after the Judgment Day because the law of God will testify against our sins.
Once a person has sinned, they are under the penalty of the law, and their righteousness is not sufficient to justify them before God. That's why Muslims, Arabs, you all will perish in hell because your righteousness will never be enough to cover all your sins you have been committing. Since all have sinned, the whole world is guilty before God. God said to His people Israelites and prophets that we should be righteous avoiding sins, repenting of them and constantly sanctified by God. The way of God was love to God and justice. God never changed His course. God said through His prophets that Messiah will JUSTIFY us and ACCEPT the sin of the world to His holy body to MAKE us FREE of our sins! According to the prophecies of God said before the existence of Islam, this Messiah should BEAR our sins and iniquities to make us free of them. So, what should we do to be justified by God? Should we perform 10 times a day a prayer and sleep during hajj lying on the ground in Muzdalifa? Our sufferings will NOT make us holy, brothers! Why? Because GOD of our father Ibrahim, BEFORE the existence of Islam, TOLD us that we will be JUSTIFIED by God because the ONE MAN will TAKE all our sins to His HOLY body to make us FREE of our sins. So, Muslims, listen to me: you will be always in your sins if you will NOT be free of them THROUGH your FAITH in God Jesus. This Man, about whom God told us, is the WAY of FREEDOM for every Muslim, Arab. God openly revealed the means of slavation, Messiah/Isa Al Massih, through whom would come the righteousness that will justify one before God.
Brothers, men have always been justified and saved by grace of God through faith. People who were saved by God from hell before the existence of Islam THROUGH FAITH. The same way, we all will be saved by God during our life through OUR FAITH in God. But if we follow another 'faith' or another 'beliefs', which makes God- who told us about SALVATION through Messiah- a LIAR, then we will PEREISH. Why? Because faith in a cow is UNABLE to save you from the WRATH of the ONE Supreme Being who NEVER was a cow. His JUSTICE and His words testify against you. But His heart and infinite LOVE toward you is calling you to Him!
So, God CLEARLY expressed His will by saying that SALVATION is possible ONLY through FAITH in God Jesus. Because if you will BELIEVE in God Jesus, you confess FAITH in God of our father Ibrahim. It is impossible to BELIEVE in Father and INSULT the Son by rejecting Him.
If you have NEVER believed in God Jesus, do it today. Repent of all your sins. Confess them to God Jesus in prayer /conversation and be sure that you will be forgiven by Him right now after your prayer. He will forget your sins and you just LIVE in your renewed life abandoning your crimes and sins. This is the true FAITH in the TRUE God. This is the HOLINESS and LOVE of the true God revealed to us. This is the WAY shown us and revealed by the TRUE God who NEVER was in Islam.
ﺭﻭﻣﻴﺔ 3 (Arabic Life Application Bible)
ﺭﻭﻣﻴﺔ 3
1
إِذَنْ، مَا هُوَ فَضْلُ الْيَهُودِيِّ؟ بَلْ مَا هُوَ نَفْعُ الْخِتَانِ؟
2
إِنَّهُ كَثِيرٌ مِنْ جَمِيعِ الْجِهَاتِ، وَأَهَمُّهَا فِعْلاً أَنَّ أَقْوَالَ اللهِ وُضِعَتْ أَمَانَةً بَيْنَ أَيْدِيهِمْ.
3
فَمَاذَا يَحْدُثُ؟ إِنْ كَانَ بَعْضُهُمْ قَدْ أَسَاءُوا الأَمَانَةَ، فَهَلْ يُعَطِّلُ عَدَمُ أَمَانَتِهِمْ أَمَانَةَ اللهِ؟
4
حَاشَا! وَإِنَّمَا، لِيَكُنِ اللهُ صَادِقاً وَكُلُّ إِنْسَانٍ كَاذِباً، كَمَا قَدْ كُتِبَ: «لِكَيْ تَتَبَرَّرَ فِي كَلاَمِكَ، وَتَظْفَرَ مَتَى حَكَمْتَ».
5
وَلَكِنْ، إِنْ كَانَ إِثْمُنَا يُبَيِّنُ بِرَّ اللهِ، فَمَاذَا نَقُولُ؟ أَيَكُونُ اللهُ ظَالِماً إِذَا أَنْزَلَ بِنَا الْغَضَبَ؟ أَتَكَلَّمُ هُنَا بِمَنْطِقِ الْبَشَرِ:
6
حَاشَا! وَإِلاَّ، فَكَيْفَ يَدِينُ اللهُ الْعَالَمَ؟
7
وَلكِنْ، إِنْ كَانَ كَذِبِي يَجْعَلُ صِدْقَ اللهِ يَزْدَادُ لِمَجْدِهِ، فَلِمَاذَا أُدَانُ أَنَا بَعْدُ بِاعْتِبَارِي خَاطِئاً؟
8
أَمَا يُفْتَرَى عَلَيْنَا كَمَا نُتَّهَمُ زُوراً وَيَزْعُمُ بَعْضُهُمْ أَنَّنَا نَقُولُ لِنُمَارِسْ الشُّرُورَ لِكَيْ يَأْتِيَ الْخَيْرُ؟ هَؤُلاَءِ دَيْنُونَتُهُمْ عَادِلَةٌ.
9
فَمَاذَا إِذَنْ؟ أَنَحْنُ الْيَهُودَ أَفْضَلُ؟ لاَ، عَلَى الإِطْلاقِ! فَإِنَّنَا، فِي مَا سَبَقَ، قَدِ اتَّهَمْنَا اليَهُودَ وَالْيُونَانِيِّينَ بِكَوْنِهِمْ جَمِيعاً تَحْتَ الْخَطِيئَةِ،
10
كَمَا قَدْ كُتِبَ:
11
لَيْسَ مَنْ يَبْحَثُ عَنِ اللهِ.
12
جَمِيعُ النَّاسِ قَدْ ضَلُّوا، وَصَارُوا كُلُّهُمْ بِلاَ نَفْعٍ. لَيْسَ مَنْ يُمَارِسُ الصَّلاَحَ، لاَ وَلاَ وَاحِدٌ.
13
حَنَاجِرُهُمْ قُبُورٌ مَفْتُوحَةٌ؛ أَلْسِنَتُهُمْ أَدَوَاتٌ لِلْمَكْرِ؛ شِفَاهُهُمْ تُخْفِي سَمَّ الأَفَاعِي الْقَاتِلَةِ؛
14
أَفْوَاهُهُمْ مَمْلُوءَةٌ لَعْنَةً وَمَرَارَةً،
15
أَقْدَامُهُمْ سَرِيعَةٌ إِلَى سَفْكِ الدِّمَاءِ؛
16
فِي طُرُقِهِمِ الْخَرَابُ وَالشَّقَاءُ؛
17
أَمَّا طَرِيقُ السَّلاَمِ فَلَمْ يَعْرِفُوهُ؛
18
وَمَخَافَةُ اللهِ لَيْسَتْ نُصْبَ عُيُونِهِمْ».
19
وَنَحْنُ نَعْلَمُ أَنَّ كُلَّ مَا تَقُولُهُ الشَّرِيعَةُ إِنَّمَا تُخَاطِبُ بِهِ الَّذِينَ هُمْ تَحْتَ الشَّرِيعَةِ، لِكَيْ يُسَدَّ كُلُّ فَمٍ وَيَقَعَ الْعَالَمُ كُلُّهُ تَحْتَ دَيْنُونَةٍ مِنَ اللهِ.
20
فَإِنَّ أَحَداً مِنَ الْبَشَرِ لاَ يَتَبَرَّرُ أَمَامَهُ بِالأَعْمَالِ الْمَطْلُوبَةِ فِي الشَّرِيعَةِ. إِذْ إِنَّ الشَّرِيعَةَ هِيَ لإِظْهَارِ الْخَطِيئَةِ.
21
أَمَّا الآنَ، فَقَدْ أُعْلِنَ الْبِرُّ الَّذِي يَمْنَحُهُ اللهُ ، مُسْتَقِلاً عَنِ الشَّرِيعَةِ، وَمَشْهُوداً لَهُ مِنَ الشَّرِيعَةِ وَالأَنْبِيَاءِ،
22
ذَلِكَ الْبِرُّ الَّذِي يَمْنَحُهُ اللهُ عَلَى أَسَاسِ الإِيمَانِ بِيَسُوعَ الْمَسِيحِ لِجَمِيعِ الَّذِينَ يُؤْمِنُونَ. إِذْ لاَ فَرْقَ،
23
لأَنَّ الْجَمِيعَ قَدْ أَخْطَأُوا وَهُمْ عَاجِزُونَ عَنْ بُلُوغِ مَا يُمَجِّدُ اللهَ .
24
فَهُمْ يُبَرَّرُونَ مَجَّاناً، بِنِعْمَتِهِ، بِالْفِدَاءِ بِالْمَسِيحِ يَسُوعَ
25
الَّذِي قَدَّمَهُ اللهُ كَفَّارَةً، عَنْ طَرِيقِ الإِيمَانِ، وَذَلِكَ بِدَمِهِ.
26
لِيَظْهَرَ بِرُّ اللهِ إِذْ تَغَاضَى، بِإِمْهَالِهِ الإِلَهِيِّ، عَنِ الْخَطَايَا الَّتِي حَدَثَتْ فِي الْمَاضِي، وَيَظْهَرَ أَيْضاً بِرُّهُ فِي الزَّمَنِ الْحَاضِرِ: فَيَتَبَيَّنَ أَنَّهُ بَارٌّ وَأَنَّهُ يُبَرِّرُ مَنْ لَهُ الإِيمَانُ بِيَسُوعَ.
27
إِذَنْ، أَيْنَ الاِفْتِخَارُ؟ إِنَّهُ قَدْ أُبْطِلَ! وَعَلَى أَيِّ أَسَاسٍ؟ أَعَلَى أَسَاسِ الأَعْمَالِ؟ لاَ، بَلْ عَلَى أَسَاسِ الإِيمَانِ،
28
لأَنَّنَا قَدِ اسْتَنْتَجْنَا أَنَّ الإِنْسَانَ يَتَبَرَّرُ بِالإِيمَانِ، بِمَعْزِلٍ عَنِ الأَعْمَالِ الْمَطْلُوبَةِ فِي الشَّرِيعَةِ.
29
أَوَ يَكُونُ اللهُ إِلَهَ الْيَهُودِ وَحْدَهُمْ؟ أَمَا هُوَ إِلهُ الأُمَمِ أَيْضاً؟ بَلَى، إِنَّهُ إِلَهُ الأُمَمِ أَيْضاً،
30
مَادَامَ اللهُ الْوَاحِدُ هُوَ الَّذِي سَيُبَرِّرُ أَهْلَ الْخِتَانِ عَلَى أَسَاسِ الإِيمَانِ، وَأَهْلَ عَدَمِ الْخِتَانِ عَلَى أَسَاسِ الإِيمَانِ.
31
إِذَنْ، هَلْ نَحْنُ نُبْطِلُ الشَّرِيعَةَ بِالإِيمَانِ؟ حَاشَا، بَلْ إِنَّنَا بِهِ نُثَبِّتُ الشَّرِيعَةَ.
Romans 3 (New King James Version)
Romans 3
God's Judgment Defended
1 What advantage then has the Jew, or what is the profit of circumcision? 2 Much in every way! Chiefly because to them were committed the oracles of God. 3 For what if some did not believe? Will their unbelief make the faithfulness of God without effect? 4 Certainly not! Indeed, let God be true but every man a liar. As it is written: " That You may be justified in Your words, And may overcome when You are judged." 5 But if our unrighteousness demonstrates the righteousness of God, what shall we say? Is God unjust who inflicts wrath? (I speak as a man.) 6 Certainly not! For then how will God judge the world? 7 For if the truth of God has increased through my lie to His glory, why am I also still judged as a sinner? 8 And why not say, "Let us do evil that good may come"?—as we are slanderously reported and as some affirm that we say. Their condemnation is just.
All Have Sinned
9 What then? Are we better than they? Not at all. For we have previously charged both Jews and Greeks that they are all under sin. 10" There is none righteous, no, not one; 11 There is none who understands; There is none who seeks after God. 12 They have all turned aside; They have together become unprofitable; There is none who does good, no, not one." 13 " Their throat is an open tomb; With their tongues they have practiced deceit"; " The poison of asps is under their lips"; 14 " Whose mouth is full of cursing and bitterness." 15 " Their feet are swift to shed blood; 16 Destruction and misery are in their ways; 17 And the way of peace they have not known." 18 " There is no fear of God before their eyes." 19 Now we know that whatever the law says, it says to those who are under the law, that every mouth may be stopped, and all the world may become guilty before God. 20 Therefore by the deeds of the law no flesh will be justified in His sight, for by the law is the knowledge of sin. As it is written:
God's Righteousness Through Faith
21 But now the righteousness of God apart from the law is revealed, being witnessed by the Law and the Prophets, 22 even the righteousness of God, through faith in Jesus Christ, to all and on all who believe. For there is no difference; 23 for all have sinned and fall short of the glory of God, 24 being justified freely by His grace through the redemption that is in Christ Jesus, 25 whom God set forth as a propitiation by His blood, through faith, to demonstrate His righteousness, because in His forbearance God had passed over the sins that were previously committed, 26 to demonstrate at the present time His righteousness, that He might be just and the justifier of the one who has faith in Jesus.
Boasting Excluded
27 Where is boasting then? It is excluded. By what law? Of works? No, but by the law of faith. 28 Therefore we conclude that a man is justified by faith apart from the deeds of the law. 29 Or is He the God of the Jews only? Is He not also the God of the Gentiles? Yes, of the Gentiles also, 30 since there is one God who will justify the circumcised by faith and the uncircumcised through faith. 31 Do we then make void the law through faith? Certainly not! On the contrary, we establish the law.
---
Arabs and Muslims,
be SAVED by God RIGHT NOW!
Brothers, Islam and the Bible call Jesus as Kalimat-Ullah- WORD of Allah!
Will you reject God by rejecting His SON?
Look if you will reject Son, it means you dont believe in His Father Allah. It means you are

AGAINST

Allah.
Islam came later after prophecies of Allah already existed that His Son Jesus will save the world from sins. So, what is Islam? ONE of religions. Look brother, there are millions religions and all they worship millions of gods which are called by God of Ibrahim as IDOLS.
Way for people worshiping idols is hell. Islam is among them. Why? Because Islam makes God of our father Ibrahim

a LIAR

by claiming that there is

NO Son of God

. Islam is closing eyes of Muslims to the words of Allah. Which man on the earth is able to

BEAR INIQUITIES

of the world?

Sins

of people? How SERVANT can

JUSTIFY

many people? It is impossible for a man. But only for God! We worship perfect God. He DIED instead on us. His name is the most perfect – Jesus….Isa Ibn Allah…Isa Allah…Issa Al Massih. And He is God of our father Ibrahim. Turn from sins to HIM and LIVE eternally as son of God!
Be saved right NOW
How to LIVE with God Jesus? 2 Corinthians 7:1 Having therefore these promises, dearly beloved, let us cleanse ourselves from all filthiness of the flesh and spirit, PERFECTING HOLINESS IN THE FEAR OF GOD. Hebrews 12:28 Wherefore we receiving a kingdom which cannot be moved, let us have grace, whereby we may SERVE GOD ACCEPTABLY WITH REVERENCE AND GODLY FEAR
Fellowship with God
means YOU Arabs and Muslims
can be called sons of God.
You can be forgiven of ALL your sins!
You can be
adopted by God
THROUGH your Faith
in His Son Jesus.
Can you call Jesus the Son of God? Is He God in your life? Have you given Him absolute control of your life and future? If not, do is right NOW!
Pray now to the LORD and accept His forgiveness of all your sins through FAITH in His Son – God Jesus Christ!
Pray God right now
And be saved!
God is bringing Judgement. Return of the Lord Jesus and His Judgement day should make difference in our behavior. Live your best in purity. Be excited about meeting with the Lord. You should anxiously await with joiful anticipation of the Lord's return. If your hearts is filled with anticipation, excitement and joy, it indicates that you are walking with the Lord.
If you are NOT sure and confident
that if you would die today you would go to Heaven,
it means you need to get right with God.
If you never said- YES- to Jesus, do it today! If you have fallen away from the Lord, come back to Him today. We will close with prayers: Father, we believe that Jesus is coming again. We believe we need to be ready. And Lord I am praying about any person who is reading my message and if they dont have confidence that they are ready for Your return, help them to come to You today and get right with You now. Amen. First, recognise brother, that you are sinner. Be sorry for your sin. And ask God to forgive you right now. The way as we do that TROUGH PRAYER. That's how we communicate with God. I'd like to lead you in prayer. If you want Christ to forgive your sins. If you want to know that when you will die you will go to Heaven then pray this prayer with me right now:
God, I know I am a sinner. And I am sorry for what I have done. And I turn from my sin now and ask You to forgive me. Thank You that Your Son Jesus Christ died on the cross and shed His blood for me. Be my Savior and my Lord. And be my friend. I want to follow You from this day forward. Fill me with Your Spirit. And help me to be Your disciple. Thank You for accepting me. Thank You for forgiving me. Thank You that I am now YOURS. In Jesus' name I pray. Amen.
If you sincerely asked God to forgive you then WELCOME to the family of God. Now you are adopted by God. Now you bacame His son and His inheritance. His angels have written your name in the Book of Life. And you have the BRIGHT FUTURE.
God Jesus said:
"I tell you the truth,
whoever hears my word
and believes him
who sent me
has eternal life and will not be condemned;
he has crossed over from death to life.
Walk with God and live eternally Arab nation! Amen.
"

Holy, holy, holy is the Lord God Almighty, who was, and is, and is to come.

"
Brothers, God Jesus is COMING BACK to us to the earth.
Be prepared to LIVE with Him and not to die without Him! Repent and make your ways straight.
To make your ways straight, then, please the Lord in all you do by

BELIEVING in His Son Jesus Christ.
Turn away from a life of sin to a life of righteousness (Rom. 12:21).
This is the way of peace (Luke 1:79).
It is also the way to prosperity, blessings, answered prayer, joy and every good thing
(Prov. 13:21; 1 John 3:22; Heb. 13:21).
If you prayed this simple prayer above
or if you need more information or
still have questions about who Jesus is
or if you want to believe in God Jesus then please email me and contact me (contacts are below)
because we should be together.
God called us as believers in Him or CHURCH.
Bahira
Questions and Answers
Re: God in the human body?
Dear Bahira Then, who created earth and universe Jesus (pbuh) or his Father? Is Jesus (pbuh) living now or dead? Also, who is the mother of Jesus (pbuh) and where is she living or dead? Pls answer these questions. Khalid Almuzher
Khalid brother salam,
Jesus is God. He does not have mother. He is the Creator of universe and all stars and planets and people. God created everything. Everything is created with the power of the Holy Spirit. God is ONE and tri-united. Mariam was mother of the Man in whom the Son of God lived on this earth. The Son of God LIVED inside of the human body on the earth but He was GOD! Mariam did not give birth to God who lived in the human body. Because this Son of God created all worlds. Now Mariam is abiding in the Kingdom of God Jesus. You will be there too if you will put your trust in God Jesus. If not, you will perish.
Bahira
Re: Ask your question!
Contact me and I will answer to your questions about Islam and the Bible. Bahira
—————————————————-
Contact me here to talk about christian God and Islam:
fadlofallah@hotmail.com
Muslim Prayer Room
Brothers, join us in Prayer Room here to pray about each other!
Let's pray together! Post your prayers here and we will pray together.
We ALL are Church of God or Ummah/fellowship of believers in God Jesus:
http://arabchurch.wordpress.com/prayer-room/
mira (10:33:37) :

Dear Brothers and sisters, please pray for me i really don't like airplanes and i should travel soon as i am pregnant i am afraid so afraid please join me in prayers so the lord will give me peace and freedom from this fear, i appreciate your prayers Blessings Mira Lebanon

29 07 2010

arabkingdom (12:05:50) :

Father, please bless my sister Mira. Protect her and her child during all days of their lives. Please be with them during their trip. Father do not leave them alone. Be their God, Friend, Father and bless all relatives of Mira. Lord be their God. Save them all! Do not leave none of them alone. Bring them salvation and all Your eternal blessings! In the name of Your Son Jesus I prayed. Amen.

29 07 2010

arabkingdom (13:57:53) :

Father, please save Arabs in Lebanon. In Hezbollah. Please bring salvation and freedom to Muslims in Lebanon. Father be their FREEDOM. Lead their hearts to worship YOU by their righteous and holy lives. Amen. Amen. Bahira
Muslim Chat Room
Muslim Chat Room 'Islam'
Brothers, join us in our Muslim Chat Room here: http://www.chatzy.com/arabkingdom
Muslim Forum
Muslim Forum 'Freedom without Limits'
Brothers, join us in our Muslim Forum here: http://ummah.forumbuild.com
Here I am, Lord. Send me.
Man Suffers Heart Attack, Receives New Heart
January 7, 2009
Like Balbir, this woman also received a spiritual new heart through the witness of GFA missionaries.
In the course of a day, a Gospel for Asia missionary in Maharashtra, India, helped a heart attack victim get a new heart and brought two teen boys back from rebellion.
Before leading a group of young people in a time of outreach, GFA missionary Jival prayed that day for their ministry efforts. During the prayer, the Lord placed a man named Balbir on his heart. Jival had met Balbir three years before. Balbir, who was 67 years old, was staunch in the religious tradition of his village. He was even a respected leader in that religion. Since their first meeting, Jival had prayed for Balbir whenever the Lord brought him to mind.
In His mercy, the Lord allowed the two men to cross paths that day. This time, the elderly man was open to hearing the Gospel. He had suffered a heart attack just the week before, and he was sad and frightened. Jival listened to Balbir's story with compassion and took an opportunity to once again tell him about Jesus and His redeeming love.
He spent more than an hour ministering to Balbir that day. Balbir chose to put his trust in Christ and in a spiritual sense, got a new heart.
That day Jival and another missionary also came across Sujin and Chandan, two teenage boys who had dropped out of school. Their father shared his distress with the missionaries.
They talked with the boys and counseled them, explaining the importance of obeying their parents. They also told the boys about the love of Jesus, encouraging them to trust Him.
The two boys' father listened attentively to the Gospel, too. Both the father and his sons expressed the desire to know more about Christ and to come to Sunday services.
Please pray that Balbir will continue to grow in his new faith, and for his physical health. And pray that God will draw the hearts of Sujin, Chandan and their father to Himself. Pray, too, for the Lord's continued blessings on the missionaries' outreach.
A Musical Miracle
January 14, 2009
Mina helps lead worship at her father's church in Maharashtra, India.
Every Sunday, while Mina Raj leads worship at her father's church, she is grateful to the Lord for the miracle that allows her to do so. Mina grew up watching her father, a Gospel for Asia missionary, play several musical instruments, and it inspired her to play them as well. As she learned, she had opportunities to play the keyboard in her church. But one day, she nearly lost her chance to keep pursuing this dream. While Mina's father was spending time with the Lord in another room of her house, Mina was helping her mother. But as Mina was carrying a bucket of boiling water, she slipped and spilled the hot water over half of her body. Hearing Mina's screams, her father came to find her badly burned. After cutting off some metal bangles from her arm to ease her pain, he took her to a nearby hospital. But there was little the doctors could do for her severe burns. After Mina's father took her home, he and several other believers from their church began praying for her to be healed. And the Lord answered: Mina healed without even a scar. Today Mina serves in a Bridge of Hope center, working with children and telling her story to encourage them to trust the Lord. She also serves on the worship team of her church, playing instruments and thanking God for His healing. Mina asks for prayer that she would be used by God to help many people understand His love.
Speechless When They Heard the Truth
January 4, 2009
Like these people, the villagers and key religious leaders listened intently to Hiranya clearly explain the Gospel.
The villagers looked on as their religious leader, Ishwar Jagan, stood speechless. Although he was a scholar in their traditional faith, he had no answers to many of the questions Gospel for Asia missionary Hiranya Dilip asked him. And when Hiranya shared about salvation in Jesus, Ishwar couldn't find any flaws in his explanation.
The town meeting in Manipur, India, was an opportunity for Hiranya and Ishwar to discuss their beliefs with each other, and share with the villagers as well. People had come from all over the community to watch the debate, including many other leaders of Ishwar's religion. But even they could not provide answers for many important questions about their faith. When the debate was over, it was clear to everyone that Hiranya's faith was more solid than Ishwar's.
Many people in attendance came to Hiranya asking more about trusting Jesus. They were extremely interested to hear about a Savior who could truly forgive their sins.
During the debate, Hiranya shared the story of Jesus. The other religion's leaders were unable find a flaw in his message.
An Unusual Debate
April 2, 2008
Fearlessly, Santosh shared the message that the Lord showed him.
Deep in the night, Gospel for Asia native missionary Santosh Murari lay awake worried about the day to come. He was scared that he would not be able to speak clearly in the very important debate. Crying out to the Lord, Santosh prayed, "God, please give me wisdom and help me speak your words."
Santosh's village in Manipur, India, was dominated by 30 local priests from a traditional religion. The priests often boldly condemned Christianity. Afraid of the priests, the villagers followed them because it appeared that the priests could hurt them through magic.
One of these priests, Nadish Rahul, had his own radio show to propagate his beliefs. He vehemently proclaimed that the deity he worshipped was the true living god, and he regularly blasted Christianity on the show. During one of his broadcasts, Nadish fearlessly challenged the local Christians to debate the two religions.
The Christian leaders in the area chose Santosh to represent them in the debate. Santosh feared that he would be too nervous to present a strong message, especially in a debate with someone like Nadish, who was an experienced public speaker.
Poring over the Scriptures and fervently seeking the Lord's direction, Santosh began preparing for the big day. But he was still unsure of the best way to share about his faith with this hard audience, even the night before. Tossing and turning, unable to sleep, Santosh continued to pray. Then at 2 a.m., the Lord placed on his heart exactly what to say. Praising God for providing the answers just in time, Santosh knew he was ready. The next day, everyone gathered to watch the deliberation, including the 30 experienced priests from Nadish's religion. The group chose Santosh to present his arguments first. Standing before the glaring audience, Santosh shared the Gospel message exactly the way the Lord had showed him. Tossing and turning, unable to sleep, Santosh continued to pray. Then at 2 a.m., the Lord placed on his heart exactly what to say. After about two hours of clearly explaining his faith, Santosh was abruptly interrupted by one of the older priests. The priest stood up and said that Jesus was a "True God."
Suddenly, all of the priests began arguing among themselves, and they came to the conclusion that Jesus was a real God. They told Nadish he was wrong and the god that he shared about on the radio was false. Then to everyone's surprise, Nadish admitted that after hearing Santosh's presentation, he believed Jesus was a "True God" as well.
Now the priests, including Nadish, do not oppose the local Christians. Although they have not accepted Jesus as the one true God, they are more open to the Gospel message.
Because of the debate, Santosh has had many opportunities to share his faith, and several people in the area chose to receive Christ into their lives.
Santosh asks for prayer that Nadish and the other priests will put their complete faith in Christ alone. He also asks for prayer that the new believers will continue to grow in their walk with the Lord.
Daily Study
About our STUDY
Brothers, if you are unable to read our daily messages in your mail box then please visit daily our site: http://muslimstudy.wordpress.com
We will publish all our messages on this site.
The best messages will be also published here:
https://arabkingdom.wordpress.com
So, even if you cannot see pictures in our messages or to read text then just visit our site and find this message placed there:
http://muslimstudy.wordpress.com

Is the WAY to God in Islam?

Are you forgiven by God in Islam? Are you SURE that Allah forgave you ALL your sins? Or may be you are just going to hell by following Islam?!

Who is God of our father Ibrahim? God is LOVE
Prayers
Prayer of thanksgiving
Dear Lord, thank you for sending us the Holy Spirit. Thank you for the strength and peace He brings. The Holy Spirit has lead me to a wonderful healing place this week, I pray for the strength to empty out more of me and seek the Holy Spirit to fill me. Amen
Heavenly Father Praise to our Heavenly Father who cares about us Lord, you understand rejection as you were forsaken by your own peoples In this temporal world, Lord we hurt, we feel loneliness, and are bombarded by rejection We tend to isolate ourselves from hurt & rejection,but we lose much in the process Our bodies have aged-yet we long for our youth I pray that you will comfort each of us and give us the strength that only comes from you to be whole creatures-with every hurt healed Amen
Praised be Your Name, Lord
praised be Your Name forever. You have made the entire universe. You speak the Word, and the things come to existence, and the mountains are moving. You are the Lord of creation and also Redeemer who saved us from the eternal death. Lord, to You we give praises, glory, our lives and everything. Lord, we are broken people in broken world, but you are the One who makes all things news. May we always keep in You our trust, faith, hope. Lord, thank you for not giving up on us. Thank you for loving us with unconditional love. We would be eternally lost without you. Thank you, Lord, for giving us the gift of life eternal. Blessed be your name for ever and ever. Amen.
God you know
I need you "I AM" in so many ways I cry out from my depths. My inner spirit is clinging to your unshakeableness! Almighty , creator of every part of my being you see more clearly than I my hunger. You are the reason for my life let me see your beauty more Lord! Let your kingdom come in my life, bring your Glory down and surround me evermore. Fill every crevis in my being yes And amen …remain Forevermore
Be saved my Arab nation!
Read the Bible onl
ine here in Arabic and in many oher languages:
If you need more information or still have questions about who Jesus is or if you want to believe in God Jesus then please email me and contact me here because we should be together.
God called us, believers in Him or CHURCH: